What to do with all those mesh bags from apples and onions? Make Valentines of course!
Materials Needed:
Blank cards or Used file folders
Netting or Mesh bags from fruits and veggies
Scissors
Sequins and sparkles
Sewing machine (Ideally capable of a zig zag stitch)
Process:
1. Cut two squares or rectangles of mesh (If using netting, one piece is sufficient.)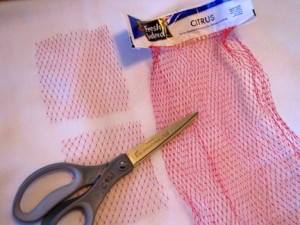 2. Overlap the mesh pieces and center them onto the card.
3. Sew along 3 sides of the mesh using a zig zag stitch for added decoration. (REMEMBER to open the card BEFORE sewing otherwise you will successfully create a postcard J )
4. Fill the mesh pocket with sparkles. (If using mesh bags, stick with large size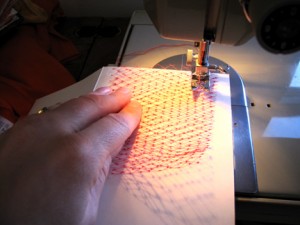 sparkles.)
5. Sew along the 4th side of the mesh pocket.
6. Write a few kind words inside & send it off to a friend. Happy Valentine's Day!
Tips: Instead of purchasing blank cards, fold and cut cards from a few used file folders.