It's been an EXCITING start to After School Art Club at Cloud 9 Workshop! Adventures in soap clouds, accordion books, finger weaving, invisible ink, bubble prints & combustion art! Yes! You can join us too. Thursdays, 4-5:30 p.m. Learn More about After School Art Club!
The day we set our art work on fire started as any other day at After School Art Club. First, we warmed up our creative minds with sketchbook work and a creative story called "What do you do with a problem?" Then, we briefly discussed the science of combustion and color mixing & completed a color activity sheet. Finally, drum roll please, we created brilliant images on tiles which we later transformed into colorful coasters.
See our work on fire in this video!
FREE Tutorial, Sharpie Coasters, Combustion + Art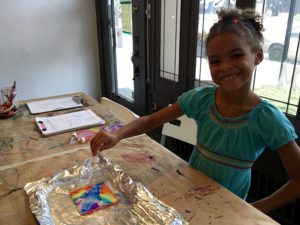 Materials Needed:
Tiles (pick them up cheap at your local Habitat for Humanity ReStore)
Sharpies (or other permanent markers)
Alcohol (Make sure you use 91% alcohol, not the more common 70%)
Eye dropper (old droppers from children's medicine work great!)
Lighter wand
Tin foil
Metal pan
Felt 4x4 squares
Fabric glue
Sealant
Process:
1. Optional: Color edges of tile & put name on back
2. Color tile surface (Colors will blend together so apply knowledge of color mixing)
3. Add drops of alcohol on top of colored tile
4. Move alcohol bottle away from working area & place tile on metal tray covered with tin foil
5. Set tile on fire with lighter wand! (Use caution, Fire is hot and burns!!)
6. When completely dry spray with sealant & glue on felt squares
JOIN US at Cloud 9 Workshop's After School Art Club or Summer Eco-Art Camp!