Visit Cloud 9 Workshop THIS AUGUST and enjoy making Etched Glass, Eco-friendly bowl covers, Toys for your favorite furry friends and Canning labels and lids.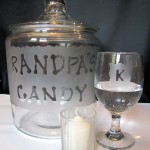 Join us Friday, August 15 for Feeling Crafty Friday Nights!, Thursday, August 14 for a special Mom's Night Out or gather a few friends (5 or more!) and reserve a workshop of your own. One date remains on Tuesday, August 12.
REGISTER HERE to secure your spot!