How to create Cereal Box Journals
Learn how to transform everyday cereal boxes into personal pocket-sized journals.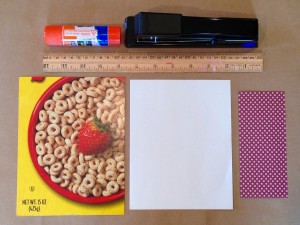 Materials Needed:
Cereal boxes

Decorative papers (scrapbook papers, wrapping paper, magazines or maps)

Plain paper

Stapler & staples

Scissors or paper cutter

Glue stick

Ruler

Optional: 

Ribbon, 

Decorations, 

Rubber Stamps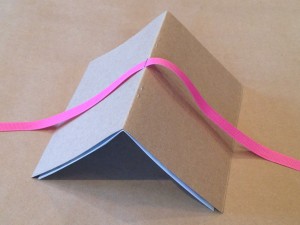 Process:
Open cereal box along seam 

Cover: Measure & cut 7½" x 5¾" rectangle 

Pages: Measure & cut 5 sheets blank copy paper 7" x 5½" 

Fold in half, cover & pages (Tip: Fold each page individually for best results) 

Nest all pages together & staple twice along center fold 

Glue decorative paper 2½" x 5¾" along spine to hide staples 

Decorate! Draw! & Journal!