It's been an EXCITING season of After School Art Club at Cloud 9 Workshop! Join us Thursdays, 4-5:30 p.m. Learn More about After School Art Club!
FREE Tutorial, Crazy Catapults Featured in Metroparent Magazine

DIY toys are fun to make and play with friends! This project is mobile & requires no messy supplies! We started with large craft sticks but no need to stop there. Craft sticks, rubber bands and spoons come in many sizes. Make several & encourage your child to experiment and text new ideas!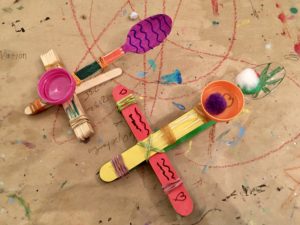 Materials Needed:
Craft Sticks, various sizes

Rubber Bands, various sizes

Plastic spoons, various sizes

Pom Poms

Optional: Plastic Bottle Tops & Hot Glue Gun

Optional: Permanent markers
Process:
KIDS
Stack 7 craft sticks & rubber band each end

Stack 2 craft sticks & rubber band one end

Slide stack of 7 sticks between stack of 2 sticks & rubber band joint

Rubber band plastic spoon on end of single craft craft stick

Place Pom Pom on spoon, pull back & Test your Catapult!

Optional: In place of spoon, hot glue plastic bottle top to end of craft stick

Optional: Add designs with permanent markers
ADULTS
Assist with hot glue gun, if needed
JOIN US at Cloud 9 Workshop's After School Art Club or Summer Eco-Art Camp!