Check out Cloud 9 Workshop on new turf along North Avenue in Wauwatosa! (Three cheers for Robyn Vining's Photography Studio!)
Participants in today's workshop transformed their boring, stuck in the back of the drawer, t-shirts into new fabulous and functional gifts. Did you know that with just two t-shirts you can create over a half a dozen new items; some to wear and some to carry but all functional and fun. You may never look at a t-shirt the same again!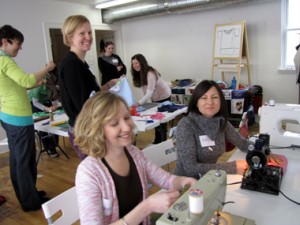 Every bit and piece of a t-shirt is rich with possibilities but if you're looking to score a hole in one on your first go, start with a t-shirt bag. The steps are simple.
Easy to make T-shirt Bag:
Cut off the bottom ¼ of the t-shirt.
Cut off the sleeves. (leave the seam with the shirt to add strength)
Cut off the collar. (don't leave the seam)
Turn it inside out and sew a straight line across the bottom of the shirt. (Sew by hand or machine.)
Done! (If your bag is too wide, sew up the sides to make smaller.)
…don't stop there, add a little zip with buttons, zig zag stitching or pull out the permanent markers and start drawing.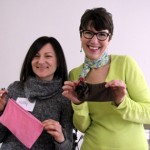 Next up is Feeling Crafty Friday Nights, coming this Friday, March 22 anytime 6:30-9:30. Check back Monday for a sneak peek!
[zilla_share]