Catch a Sneak Peek of THIS Friday's Feeling Crafty!

Thurs. & Fri. Feb. 11 & 12
Call a friend, neighbor, your dear sweet mother! and REGISTER HERE!
Learn to make your own pillow cases! Why? you ask. BECAUSE they make the best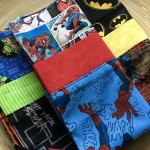 gifts and you can personalize them for your very special recipients. (This past Christmas ALL the cousins received super hero pillow cases…here's a photo of the fabric combos we used.)

You DON'T have to be a pro-sewer. A beginner will do just fine. There's no tricky business with this project. Sweet, simple and functional!
We're also TRANSFORMING bicycle inner tubes into earrings! Is that possible? you might be thinking. YES! Here's some photos for proof!
In-between all the sewing and jewelry making you may even find your self at our most therapeutic center, card making. Deep breath, ahhhhhhhh.
It's going to be a fun night! Join us Thursday or Friday, Feb. 18 or 19 from 7-9:30 p.m. Only $25 for ALL 3 projects! REGISTER HERE!