Enjoy these Farm-yard Fun Crafts from Cloud 9 Workshop, featured in Metroparent Magazine.
Sewing Spiders with The Very Busy Spider by Eric Carle
Materials Needed:
paper plate, punched with holes around plate edge
yarn
tape, ideally heavy tape dispenser
plastic bead or button
pipe cleaner
pom pom
glue, we use hot glue
Process:
ADULTS
Punch holes every 1"-1.5" around plate edge
Cut yarn about one arm's length, wrap tape around one end, double-knot opposite end and tape yarn to back of plate near edge
Hold plate in front of child as they sew
KIDS
Starting with string under plate, poke string through hole and pull up, up, up!
Choose second hole and dive string back down through hole and pull down, down, down! (Tip: Choose holes that are far apart to create web!)
When string is almost finished, tape to back of plate (Tip: Parents, kids LOVE tape & gadgets! Take time to model how to use a tape dispenser & allow your child to tear off their own tape.)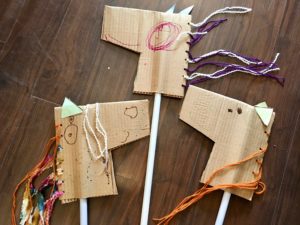 Giddy up, Let's Ride – DIY Play Horse!
Materials Needed:
cardboard
plastic or wooden stick, we used mops from the dollar store
hot glue
markers
paper scraps
scissors
school glue
yarn
hole puncher
Process:
ADULTS
Cut out horse head shape from cardboard & fold in half
After your child draws horse face, punch hole along long edge for mane
After horse head is complete, fold in half over stick and hot glue together around edge
KIDS
Draw horse face including eye, nostril & mouth on cardboard, don't forget both sides!
Cut yarn into long pieces like spaghetti
Thread yarn through punched holes & ask grown-up to secure with knots
Cut out ears & glue to head
SaveSave