Join us in creating not 4, but 5 projects at C9W's upcoming workshop on Sept. 19. Since the kiddos have returned to school, we have received several requests for one of our most popular projects, Eco-Friendly Sandwich Wraps. We aim to please at C9W so have added them to our line-up for next week!
What's that line-up you ask? I'm excited to tell you… 

1. BONUS! Eco-Friendly Sandwich Wraps, Say so long to plastic bags and containers! These wraps are the perfect first sewing project. Pack them in kid's lunches or as a snack pack to go.
2. Sudsy Soaps, I have always been attracted to snazzy soaps in stores but often resist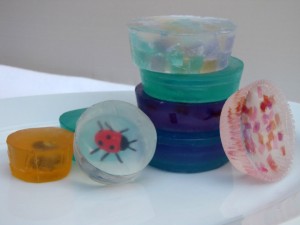 based on cost. Learn to make your own glycerin soap for home or gifts. The process can easily be repeated at home with kids and teens. Bring along some trinkets to imbed in the soaps and your kids will wash and wash and wash…..
3. Hoops of Fun Embroidery, Embroidery is back and often featured in the latest magazines and on Pinterest. We'll have all the materials you need to embroider simple whimsical and fun decor for your living room, baby's room or any room in need of a creative touch.
4. Milk Jug Jewelry, Transform your run of the mill milk jugs into earrings from the casual to the glamorous. You'll never look at a milk jug the same way again.
5. Pop-up Birthday Cards, Surprise your friends and family with a birthday greeting that POPS!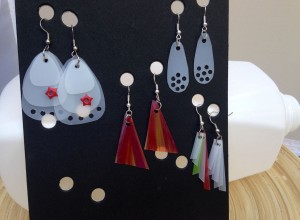 NO prior crafting experience is necessary and all materials are provided. Workshop space is limited. Register on-line or give us a call TODAY! 414-702-5465
What is Feeling Crafty Friday Nights! & Mom's Night Out at C9W? They are social craft experiences that blend the fun and excitement of a party with the guided instruction and accomplishment of a class. We take care of the preparation, set-up and clean-up so you can focus on the Fun! The more the merrier so call a friend and Register On-line TODAY!
View our 1 min. video for sneak peek!