What do you give someone who loves to make, build, draw, sew, craft, CREATE? We know!! Here are Cloud 9 Workshop's tips on great gifts for the art-minded individual!
Art Basics
Really, trust us, every creative should be well-stocked with these! I've bought tools boxes for all my kids (starting age 3) and before I had my own kiddos, I gave tool boxes filled with fun supplies and gadgets to my nieces and nephews. Periodically, I send them supply refills to keep the creative juices flowing as they grow and their interests evolve.
Tool box (The real deal, let's not pretend here. One day it holds knitting supplies the next day parts to a model and before your know it their off to college carrying real tools!) Plastic Supply Caddies also work well and cost less.
Duck tape (see dollar store gifts below), scotch tape, painters tape, washi tape, masking tape. Bonus Gadget, a tape dispenser!!
Hole punch, traditional or fancy
String, rubber bands, glue (liquid school glue & glue sticks)
Stapler & staples
Scissors
Low-temp glue gun & glue sticks (older children only)
Pencils & pencil sharpener
Markers, crayons or colored pencils
Tracing paper
P.S. If you have multiple kids, buy multiple gadgets; tape dispensers, hole punches, staplers, scissors and lable with person's name.
Local Art Experiences for Tots, Kids, Teens & Adults
Give the gift to explore, invent, experiment & CREATE!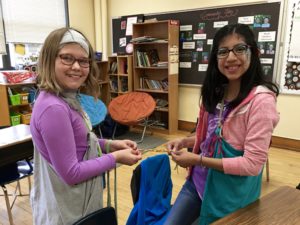 Cloud 9 Workshop – Eco-Art, Sewing, Building, Printmaking, Jewelry, Workshops & Camps for Tots, Kids, Teens, Adults, Parent/Child & Parties, DOWNLOADABLE GIFT CERTIFICATES AVAILABLE
Bloom Gallery & Creative Ground – Painting, Ceramics, Jewelry, Parties! – Kids & Adults
Cream City Clay – Ceramics – Kids & Adults
Bay View Printing – Letterpress Printing – Kids & Adults
Milwaukee Art Museum – Drawing, Painting, Fine Art – Tots, Kids & Adults
Local Recreation Departments – Tosa Recreation Department, Milwaukee Recreation Department – Tots, Kids & Adults
Walkers Point Center for the Arts – Multimedia Visual & Performing arts – Kids
Lynden Sculpture Garden – Nature & Fine Art – Tots, Kids & Adults
Dollar Store Gifts for Creative Busy Bees
Tape! Duct tape (fancy is best!), masking tape, painters tape….did we mention tape!
Colorful tissue paper
Pipe cleaners, pom moms, google eyes & anything shiny!
Small note pads and pens
Craft sticks & rubber bands
Art Kits & Toys for Kids
Find these kits on-line or better yet at your local Toy Store. We like Ruckus and Glee!
Super Hero or Fashion Rubbing Plates
Magnetic Building Tiles
Kinetic Sand, Include a plastic tub or tray…plus a collection of little cups, spoons, plastic animals…you get the idea
How to draw books…super heroes, animals, cars, fashion, silly faces….whatever interests your child
Shrinky Dinks, Buy the kits or just buy the full sheets and cut as desired!
Art Supplies for Teens & Pre-Teens
Materials that will provide hours, days, weeks and months of creative fun!
Gels pens & dark colored paper/envelopes & post-its
Oven Dry Clay like Sculpey or Fimo
Glycerine Soap Making Supplies
Kitting & Crocheting supplies
Earring supplies….maybe Cloud 9 Workshop should make some kits. We'll work on that idea!
No affiliate links here. This is just what we think is best for you and your loved ones!